| | | |
| --- | --- | --- |
| | | |
| | | |
| | | |
Our friends at UBS Financial Services asked us to share this flyer. They are hosting a Blood Drive on Friday October 27th.
Rockland Firefighters attended training at the Barnstable Fire Academy on June 22, 2016. This training was conducted so that we could work on fire attack, rescue and hose line movement that is difficult to train on under normal circumstances.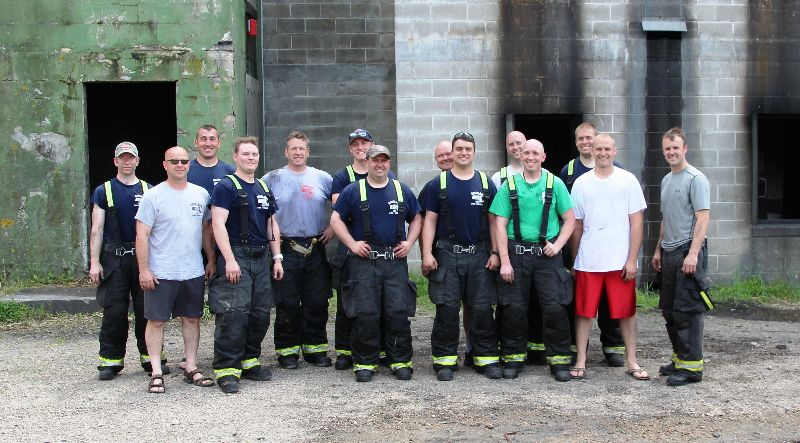 ---
The Rockland Firefighters are very pleased to announce that the Rockland Fire Department has been awarded a Department of Homeland Security, 2015 FEMA Assistance to Firefighters Grant (AFG) of $386,046. These funds will be used to replace our 18+ year old SCBA (breathing air packs) as well as provide essential firefighter life safety training.
The primary goal of the Assistance to Firefighters Grant(AFG) is to meet the firefighting and emergency response needs of fire departments and non-affiliated emergency medical service organizations. Since 2001, AFG has helped firefighters and other first responders to obtain critically needed equipment, protective gear, emergency vehicles, training, and other resources needed to protect the public and emergency personnel from fire and related hazards.
To date the Rockland Firefighters have secured over 2 million dollars in grant money for equipment and training for the Rockland Fire Department.
The Rockland Firefighters would like to thank FEMA and the grants program for this generous award that will help keep our firefighters safe.
We would also like to thank U.S. Representative Bill Keating, U.S. Senator Elizabeth Warren, Senator Edward J. Markey, the International Association of Fire Fighters and the Professional Fire Fighters of Massachusetts (PFFM) and many others for their assistance.

The Rockland Fire Department has partnered with

Hy-Viz Inc.

to bring hydrant marker

to our community!




Some features of the markers:
All markers handmade in the U.S.A
A FIVE foot tall fiberglass rod -strong yet flexible.
FOUR Large Bands of Engineer Grade banding.
Stainless steel rust proof mount. - The hydrant markers will NEVER rust!

These highly reflective hydrant markers will allow hydrants to be visible day or night, even from a great distance.

The markers will help locate snow covered hydrants during the winter months
and tree and shrub obstructed hydrants during the warmer months, leaf and leaf bag pilings in the Autumn - even behind illegally parked cars!

Best of all, your adopted hydrant will look great year after year!

And we need your help by "Adopting" a Hydrant - Its one of the best and easiest ways to help you, your neighbors, your property and possibly the health and safety of you and your loved ones in times of emergency!

- Minutes spent looking for a buried hydrant can cost lives!
Here's how the program works:
A resident or business will purchase a hydrant marker for

$20.00

by either sending a check or money order or coming to the fire stationand completing a brief Adopt A Hydrant Request Form. You can also use a secure online payment link through PayPal (below).



* Please make checks payable to "Town of Rockland "


Rockland Fire Department
c/o: Adopt a Hydrant Program

360 Union Street
Rockland, MA
023709


You may also purchase your marker online, securely, directly from the manufacture Hy-Viz Inc. using PayPal. (Click link for the website)

You can also change the quantity when ordering if you want to purchase more than one.

Don't forget to complete the Adopt A Hydrant Request Form and contact us when you purchase using PayPal, so we can get your information.

The resident or business will provide us with the nearest street address (i.e.. in front of 123 Main Street) of the hydrant (or hydrants!) they wish to adopt at the time payment is sent.

Once a group of orders have been placed, the Fire Department will locate the adopted hydrants and place the markers on them.
It's helpful if residents could keep their hydrants accessible year-round.

Snow in the winter and shrub overgrowth in the summer

can hamper quick access in an emergency where minutes, if not seconds, count!
---
---
Click the play button for a live scanner feed of Rockland Fire